PRO Services in Dubai, UAE
PRO Services in Dubai, UAE
The Best PRO assistance and document clearing services that helps you to concentrate on your businesses
AMG provides a range of efficient and reliable PRO services in Dubai and all over UAE to make the task easier, from error-free typing to professional documents clearing. Our professional team is well equipped with the knowledge and acquainted with all government departments and we assist businesses in a wide variety of sectors.
Based on the requirements and specifications of the customers, we research and evaluate the option of the best location for the creation of a new company or the licensing process by compliance with all legal procedures. With our local partner by our side and directing us through numerous procedures to secure permission from separate ministries, making it very easy for clients to focus on their business while providing stress-free best PRO services in Dubai.
 We also provide our services to both the company and the individual, depending on their requirements.  
SERVICES INCLUDED IN OUR CORPORATE PRO SERVICES PACKAGE IN UAE
Renewal of trade license
Offer Letters
Regulatory body support and liaison services
New employment visa process
Company immigration card renewal
Renewal of employment visas
Company Establishment card update
Cancellation of employment visas
Quota applications and modifications
Medical typing and applications
Labour card updates
New emirates ID processing
Labour card renewals
Renewal of emirates ID
Visa alters and weekly updates
Labour and Immigration support services
PO Box renewals
Additional services tailored for the client
Consultancy Support
Why choose AMG for PRO Services in Dubai, UAE?
PRO services are professional document Clearance services. Managing a business in the UAE involves compliance with a number of government mandated procedures.
We provide our clients professional services without much of the hassle involved in setting up a business in UAE. AMG will be with you at every step of the way and be sure to ease your process of setting up a business in the Dubai and all over UAE.
If you need PRO services in Dubai, Sharjah, and Abu Dhabi or anywhere in UAE we will provide you with a personalized service package that meets your specific business needs as soon as possible. AMG offers a fast, cost-effective and reliable PRO Service solution for your company.
AMG - PRO company in Dubai, UAE
Advantages of Choosing Our PRO Services in UAE
RELIABILITY
We value our customers and earn their trust by providing complete transparency. The goal here is to go over and beyond their expectations and fulfil every need promised.
SAVE TIME
When you work with us, we will make sure that the team takes all the work off your shoulders. That way you will be able to focus on the main functions of your business.
RESULT ORIENTED
At AMG, we not only develop plans, but also ensure that the work is done within the time period agreed upon at the outset. The team has been qualified to ensure success.
EXCLUSIVE CONSULTANT
A dedicated staff will be in charge of your account. They will be your point of contact in case of any services required.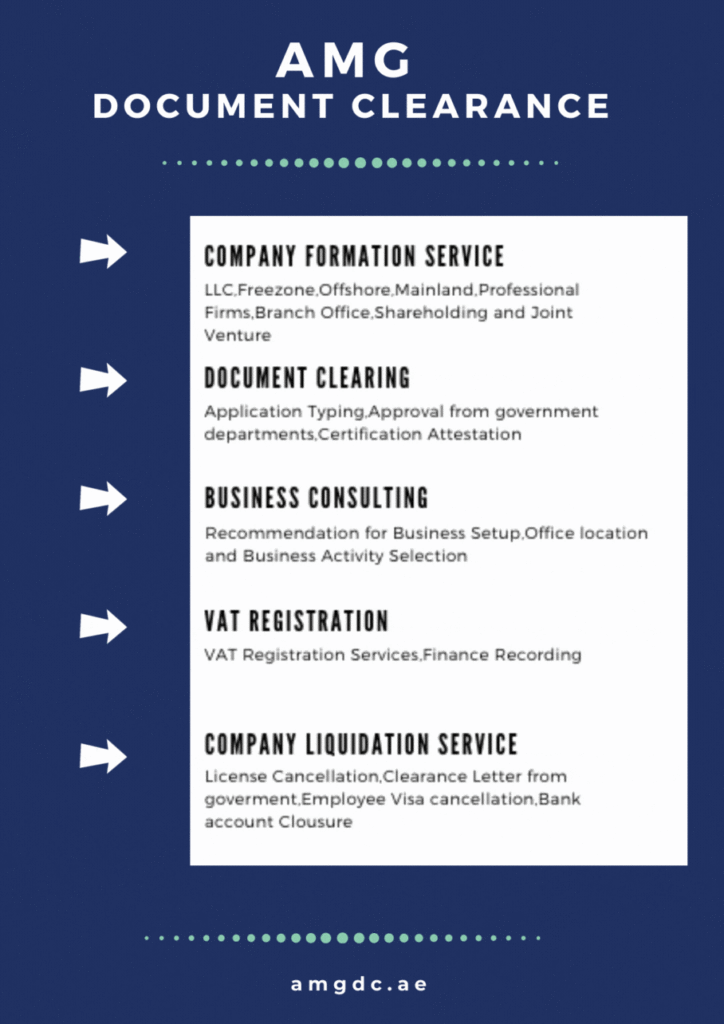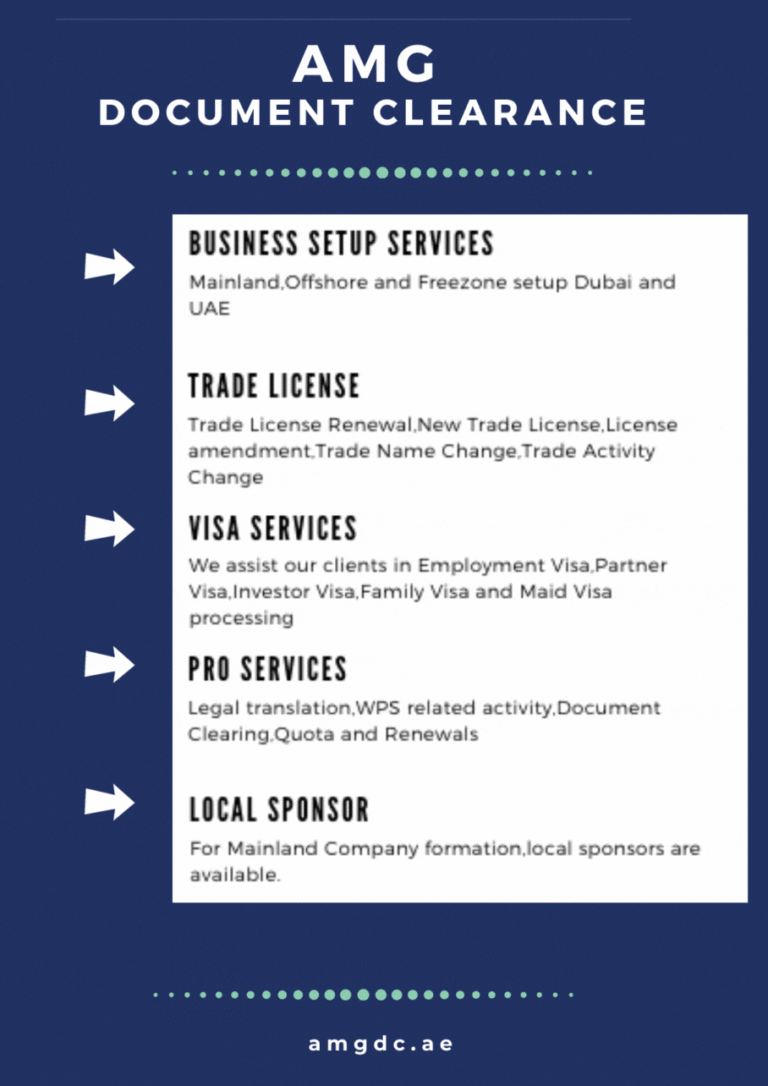 FAQ About PRO Services in UAE
What is a PRO in Dubai?
PRO Services in Dubai, UAE. Companies in the UAE require the services of a Government Liaison Officer, also known as a Public Relations Officer. Public Relations Officer (PRO) services refer to professional document clearance services, pertaining to processing governmental documents and paperwork.
What is the full form of PRO?
The term PRO is an acronym for Public Relations Officer.
What is pro card Dubai?
The government issues new cards for PROs enabling them to carry out transactions on behalf of establishments or persons whom they represent.
Let Our Experience Be Your Guide
Get Your First Consultation Free!